I know I haven't put up a lot of content recently. I just have a lot going on, and this blog was originally meant to be an on-the-side thing in my life. I admittedly put a lot into my pieces during the summer, but I had plenty of time to do it then. I'll try to at least put up one thing a month, usually on NBA awards since I find it easy and enjoyable. I have a bigger, more in depth piece that I'll release at some point, but for now, I hope this is acceptable.
I did my Season-Just-Started awards a few weeks back and I feel like I needed to write this article because just about every winner has changed since then. I'm loving this season and their is already a lot of new subplots, rising stars, and great basketball altogether. Here we go:
MVP: James Harden – 31.6 ppg, 9.9 apg, 4.8 rpg, 30.45 PER, 13-4 record
Runner-up(s): Giannis Antetokoumnpo – 30.1 ppg, 10.5 rpg, 4.4 apg, 1.8 bpg, 31.08 PER, 8-7 LeBron James – 28.9 ppg, 8.6 apg, 7.8 rpg, 29.84 PER, 9-7 record : Kyrie Irving – 20.9 ppg, 5.3 apg, 3.3 rpg, 23.25 PER, 15-2 record : Kevin Durant – 24.9 ppg, 4.9 apg, 7.0 rpg, 2.2 bpg, 25.33 PER, 12-4 record
One week in everyone (including myself) had already crowned the Greak Freek as our Westbrook-like breakout MVP for this year. He's still been great, but not AS jaw-dropping, and Milwaukee has been an average team overall. The clear MVP so far is the Beard, James Harden. He was robbed of the award last year, but has somehow comeback to be even better. He leads the league in both scoring and assists, has had an incredible 56 point 13 assist performance against the Hawks, has scored 35 or more in 5 of the last 7 games, leads the league in total 3 pointers made with a ridiculous 4.5 per game, and the Rockets currently have the 2nd best record in the league. If Harden keeps this up, he should finally, FINALLY, win that MVP that he has been so close to so many times. The other candidates outside of Harden and Giannis are much farther behind, but still very notable. The Cavs are finally getting into gear behind some great play from LeBron, everyone credits Kyrie with the Celtics' hot streak (although the real keys are Brad Stevens' coaching and Jaylen Brown's defense, but who cares), and KD who is quietly averaging a solid 25 points, is now an elite shot blocker, shooting an efficient 53% from the field and 42% from three, and all while the Warriors remain elite. And two other dark horses not on the list are Porzingis and Boogie, who are averaging mind-blowing stat lines on their mid-tier teams.
Coach of the Year: Brad Stevens, 15-2 record
Runner Up(s): Brett Brown, 8-7 ; Tom Thibbedeau 10-5 ; Stan Van Gundy 10-5
This one is a run-away. The Sixers have improved, and Brown has done a good job hanging in there. Thibbs will be credited with the Wolves' nice season, even though Jimmy Butler, Jamal Crawford, and the athleticism of Wiggins and KAT are the real reasons for their success. Van Gundy has a legitimate claim for how the well the Pistons are playing, but no one will even care. Stevens lost his 2nd best player on opening night, is integrating a whole new team, is relying on two wing players that have had their licenses for less than 5 years, but is somehow coaching the best team in the league right now with an incredible win streak. The most impressive thing about the Celtics is their defense. They're shutting down everybody for a league-best 94 ppg, and no one can figure them out. Their win over the Warriors was truly remarkable in displaying their grit, toughness, and execution. The Celtics are on a roll, and hopefully rolling to a well-deserved award for Brad Stevens.
Rookie of the Year: Ben Simmons – 18.1 ppg, 8.0 apg, 9.1 rpg, 1.9 stpg, 21.21 PER, 8-7
Runner Up(s): (doesn't really matter) Jayson Tatum – 13.9 ppg, 1.4 apg, 5.6 rpg, 17.22 PER, team is 15-2 ; Kyle Kuzma – 16.4 ppg, 1.3 apg, 7.0 rpg, 15.57 PER, 7-10 ; Lauri Markkanen – 14.8 ppg, 1.6 apg, 7.6 rpg, 16.95 PER, 3-11
Simmons is so freaking good. He's already an all star. He's already an alpha dog. He's already a top 20 player in the league. And he does this all without being able to shoot past 13 feet. It's a testament to his supreme athleticism, driving ability, crafty post game, and simply his overall greatness. It's not even out of reach for him to average a triple-double this very year. He's raised the Sixers to new levels and finishes at the rim with his elevation and coordination with both hands. He's simply a step ahead of all these other rooks. But nevertheless, some have been pretty good. Tatum does everything that the Celtics need from him and contributes to the hottest team in the league, Kuzma is a lovable, energetic, scoring machine who is keeping the hope in LA, and Lauri (The Finnish Channing Frye) is lighting it up from deep while rebounding unexpectedly well. But Ben Simmons is already the prince of the rookies.
Most Improved Player: Victor Oladipo – 23.1 ppg, 3.6 apg, 5.1 rpg, 1.3 stpg, 20.57 PER, 9-8
Runner Up(s): Jaylen Brown – 15.8 ppg, 1.1 apg, 6.6 rpg, 1.2 stpg, 15.22 PER, 15-2 ; Tyreke Evans – 17.7 ppg, 3.4 apg, 5.1 rpg, 24.02 PER, 7-8 ; Kristaps Porzingis – 27.8 ppg, 1.1 apg, 7.1 rpg, 2.3 bkpg, 26.42 PER, 8-7
This was actually the hardest and most interesting award to pick. I was deadly close to giving this to both Brown and Tyreke. Jaylen has been lock-down on defense and single handedly beat the Warriors, while Tyreke has resurrected from a player out of a league to one of the best sixth man scorers in the NBA. And I had to include Porzingis, who has risen from "guy with potential" to "player who can beat any team and anyone on any night." But Oladipo deserves this. His numbers have been great and he has proved everyone that the Paul George trade did make sense. He's replicating PG's numbers and is leading the Pacers to a likely playoff spot. This basically means that he went from Oladipo of last year, a below-average starter, to Paul George, a franchise player. I'd call that improvement.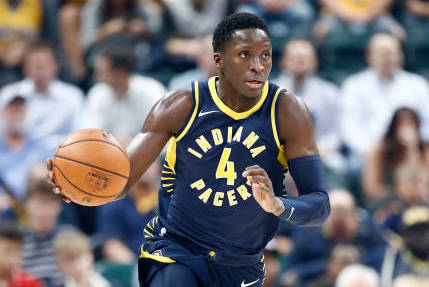 Defensive Player of the Year: Draymond Green
Runner Up(s): Jaylen Brown, Robert Covington
By far the most boring award to pick with injuries to Gobert and Kawhi, and so boring that I didn't even put up the stats. Draymond is consistently the best defender in the world, so I figured I'd stick with him. Jaylen has been a huge part of the Celtics' top rated defense with his great hustle, length, and quickness. And my man, Bobby Covington, has been awesome this year on both ends of the floor, so I had to give him a mention. That's about it.
Sixth Man of the Year: Tyreke Evans – 17.7 ppg, 3.4 apg, 5.1 rpg, 24.02 PER, 7-8
Runner Up(s): Lou Williams – 17.7 ppg, 3.7 apg, 2.7 rpg, 20.47 PER, 5-10 ; Eric Gordon – 20.9 ppg, 2.9 apg, 2.2 rpg, 16.35 PER, 13-4
No great options, and without statistic research I would've picked Lou. But Tyreke's stats have been slightly better, so I think I'll go with him. Lou is right their with him as both are great spark-plugs for offense of the bench. And I just wanted to keep Eric around since he's the reigning champ and he's still a pretty big baller.
Eastern All-Stars:
Starters – Kyrie Irving, Ben Simmons (G), LeBron James, Giannis Antetokounmpo, Kristaps Porzingis
Bench: Joel Embiid, Bradley Beal, John Wall, Jaylen Brown, Demar DeRozan, John Wall, Victor Oladipo
Western All-Stars:
Starters – James Harden, Stephen Curry, Kevin Durant, Demarcus Cousins, Lamarcus Aldridge
Bench: Anthony Davis, Russell Westbrook, Klay Thompson, Damian Lillard, Draymond Green, Karl-Anthony Towns, Nikola Jokic